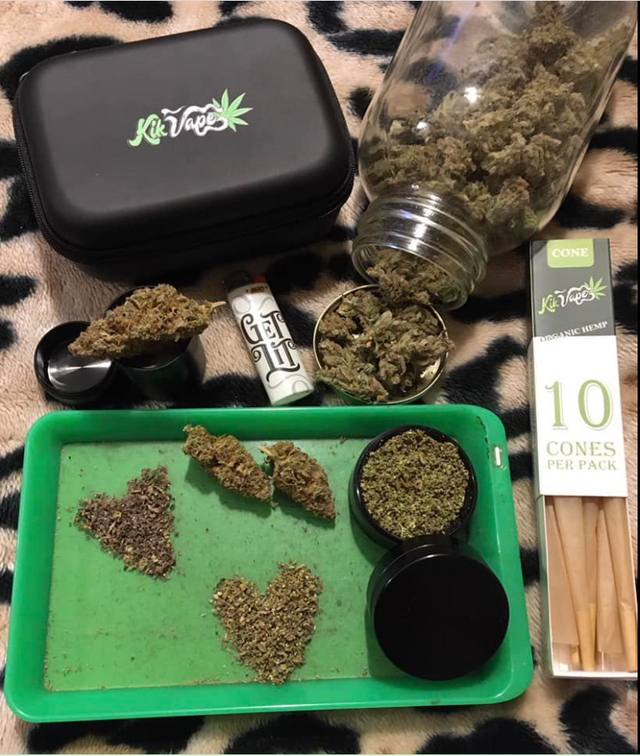 CHECK OUT ABOUT WEED GRINDERS!

Grind your buds first with the aid of a grinder to maximize your entire experience whether you vape, smoke, or add marijuana to edibles. The marijuana grinder is unquestionably one of the few indispensable items every cannabis user has to possess.

If you're new to the world of marijuana, you definitely have a few inquiries about what cannabis grinders are, how they operate, and why you would need one. This comprehensive introduction to grinders will teach you the fundamentals of marijuana grinders so you can get started.


WHY DO YOU GRIND WEED?

Your flower will burn thoroughly when smoked if it has been crushed and divided into little bits using a shredder. Cannabinoids, terpenes, and other compounds are released while marijuana burns, allowing for the inhalation of these substances.

WHAT IS A WEED GRINDER?

A cylindrical device known as a herb grinder has two separate halves, each of which has sharp teeth or pegs arranged so that when both halves are spun, the contents are crushed.

Cannabis fans have been using grinders to reduce thick buds into tiny, smoke-able particles since the 1960s. You will discover the advantages of employing a cannabis grinder in this post, along with advice on how to pick the top grinder. We'll also provide some expert advice on how to get the most out of your herb grinder.

WHAT IS THE GROUND WEED CALLED?

The psychoactive component of cannabis, THC, is concentrated in the powder known as kief. Kief is typically the starting material for hashish. Hash cakes made from fine powder are frequently pressed, and these cakes can subsequently be smoked or vaporized. 

WHY USE A GRINDER FOR WEED?

Grinder technology makes it considerably quicker and cleaner to break up big amounts of marijuana. Even if some cannabis users are too tempted to use their hands to tear apart and ground their marijuana, buying a nice herb grinder has a number of benefits.

When breaking up marijuana with your hands, you end up with irregularly sized pieces that heat or burn unevenly. A grinder, on the other hand, uses its strategically positioned teeth to consistently shred dry marijuana blossoms.

The kief from your herbs can be separated and collected using marijuana grinders. Customers that prefer dry herbs enjoy kief's high concentration of botanically active chemicals, therefore having a kief catcher is an added bonus. This enables you to gather kief in the bottom of your grinder so you may use it to make edibles, vaporizers, pipes, or joints later.


Another drawback of pulling apart the bud with your hands is that it is nearly impossible to capture the kief that comes off as you do so. When you use your hands to consume cannabis, the kief turns into a sticky resin on your fingers owing to friction, and these tiny fragments of trichomes filled with cannabinoids and terpenes will wind up everywhere.

Weed grinders increase the potency of your vaping, smoking, or cooking activities and help you avoid unintentional marijuana loss while saving you money.

Additionally, they protect the quality of your marijuana because human hands spread natural skin oils that weaken the resin still present on your cannabis.

WHAT IS THE PURPOSE OF A GRINDER?

An herb grinder's main function is to reduce marijuana buds to a finer consistency so that you can roll them into joints or pack them into bowls. The main purpose of grinders is to enhance the smoking experience by evenly shredding cannabis flowers. Even though you don't necessarily need a grinder to reduce nugs to smaller bits, doing so lowers the risk of clogging your pipe. It makes joints and blunts burn more evenly and enables you to use the flower more effectively.

An angle grinder is mostly used to grind metal. Abrasive grinding discs, which are available in a variety of materials like aluminum, carbide, and diamond-tipped discs, are used to do this. When a grinding disc is attached, turn on the grinder to get it spinning quickly.

ACCESSORIES OF A GRINDER:

Metal, plastic, or wood can all be used to make grinders. Some come in one piece, while others come in as many as five.
-A lid and a grinder bottom are part of two-piece grinders (also called a bud catcher)
-A lid, a grinding chamber, and a storage chamber are all parts of three-piece grinders.
-A lid, grinder bottom, storage catcher, and one or two kief catchers are included with four- and five-piece grinders. The inclusion of a kief catcher may suggest some inventive uses for the kief that is gathered. You can roll your joint in kief for an extra intense kick, press it into hash or rosin, add it to your favorite recipe, or press it into hash or rosin.

Choose a flat grinder that resembles a cheese grater and can easily fit in your pocket if you like a simpler design. If you want your marijuana to be ready at the press of a button, there are also electric and battery-operated versions.

PURCHASING THE FITTEST HERB GRINDER:

Grinders come in two primary categories: manual (hand-cranked) and automatic (electric or battery-powered).

Manual grinders: A simple hand-cranked grinder may be purchased online for as low as $15, particularly on marketplaces like Etsy, where some artisans offer personalized alternatives with your name or a special slogan inscribed. Online, you may find many hand-cranked small grinders for less than $25.


Automatic grinders: Prices for grinders with three or more components can range from $25 to $200 or more. For instance, the portable, battery-powered E-shredder from Aux Tools has a suggested retail price of $199.99. Some automatic grinders, like the Mamba Electric Herb Grinder, are considerably less expensive.

HOW TO OPERATE A GRINDER?:

STEP:1

First, remove the top lid. If required, break up larger chunks with your fingers and position them between the grinder's teeth as opposed to the grinding bowl's edges. Since the magnets' pivot points are at the middle, placing any nugs there is worthless. Nothing will be destroyed in the middle.

STEP:2

Second, replace the grinder's top and turn it about 10 times in either a clockwise or counterclockwise direction. Repeat the process until all of the buds fall through the holes or the ground herb reaches the right consistency for you. To remove any sticky particles stuck in the grinder's teeth, remove the top and lightly tap it against the side of the grinder.

STEP:3 

Remove the toothed chamber to uncover the basket layer containing your freshly ground marijuana. You may now put it in your blunt, vaporizer, or pipe.

STEP:4

Using a piece of paper or the accompanying scraping tool, remove part of the kief you have gathered in the bottom chamber. Keep in mind that you can keep kief for later use or add it to your vaporizer or pipe bowl for stronger natural effects.

Note: You may find that your grinder's revolving motion gets harder over time. This indicates that cleaning is required. Rub the grinder pieces in warm water and a cleaning solution comprised of isopropyl alcohol and salt to remove the stickiness. Use a fresh toothbrush or beard brush to remove any loose dry herb or kief from the screen.

USEFUL HINTS FOR OPERATING  A GRINDER:

The procedure for grinding marijuana is quite simple, regardless of whether you get a manual or motorized grinder. Here is some professional advice for optimizing the performance of your herb grinder.

1. Be cautious:

When turning a manual grinder; you don't need to use much force. You should be able to achieve the ideal cannabis grind on a well-kept grinder with sharp blades after about a dozen slow spins. Furthermore, it's crucial to avoid overfilling the grinder. If you want to avoid taxing the grinder, you can always go back for a second round.

2. Turn it upside down:

To get an extremely fine grind, take out the kief chamber, flip the grinder over, and then grind. After grinding, replace the kief chamber. This method allows for better grinding and produces smoother ground marijuana since it prevents the buds from falling into the bottom chamber.


3. Clean the grinder:

A grinder needs to be kept clean, just like other cannabis accessories like water pipes and ash collectors. The best cleaning tools are a soft cloth and brush; stay away from abrasive substances like scrubbing pads because they might harm a herb grinder. Apply to rubbing alcohol to the surface to be cleaned, rinse with warm water, and completely dry. By performing this simple maintenance, you can extend the life of your grinder and guarantee consistently smooth cannabis use.

VARIOUS TYPES OF A GRINDER:

Marijuana users love the three-part cannabis grinders because they have a compartment for your freshly ground herbs and another chamber to hold your kief. There are numerous sizes and varieties of weed grinders. You may buy plastic, automatic, huge, tiny, and even miniature cannabis grinders that can even roll a joint for you while you wait, depending on the store. Stone, wood, metal, and plastic are the four materials available for herb grinders. Let's examine these and other grinder types.

1. PLASTIC GRINDERS:

In an emergency, a plastic grinder is typically purchased for a low cost and is generally considered to be of bad quality. Typically, the body and teeth are composed of plastic. This inexpensive choice frequently breaks and wears out. Plastic processors are not meant to be used for a long time.

2. METAL GRINDERS:

Plastic grinders are less reliable and less effective at doing the task than metal grinders. Because of this, the metal grinder is the best option for grinding cannabis. To make cleaning easier, this type of grinder is typically made of aluminum. Due to their durability, metal grinders can perfectly ground cannabis no matter how dense the buds are. A particularly efficient metal grinder is the KLIP, which has a magnetic construction that makes grinding cannabis simple.

3. STONE GRINDERS:

A stone grinder is an extremely specialized and uncommon type of grinder. It has teeth composed of a more durable stone or metal. Although these grinders have a lovely appearance, they can be heavy and get clogged up easily, which makes them less useful over time.

4. WOODEN GRINDERS:

Similar to a stone grinder, the hardwood grinder is more durable than plastic but is not intended for long-term use. The teeth are typically small and constructed of aluminum, making them more durable than a stone grinder. Cleaning a wood grinder can be challenging because if it gets damp, the wood will distort and the grinder won't work.

5. CRANK GRINDERS:

These grinders can be beneficial for arthritis sufferers. The weakness of crank-style grinders is how easily the cranks can come loose. A crank grinder is often composed of aluminum. The consumer only needs to turn the crank and unscrew the grinder to get to the herb when they need to grind it.

6. ELECTRIC GRINDERS:

The experience can be less physically demanding with electric grinders. However, because it must be constantly plugged in or charged, convenience points are diminished. It is therefore not a particularly portable choice.